Dental Implants Ealing
If you'd like stunning, long lasting and affordable dental implants in Ealing from a highly experienced dentist, our 5* state-of-the-art clinic can help.
Meet our expert implant dentist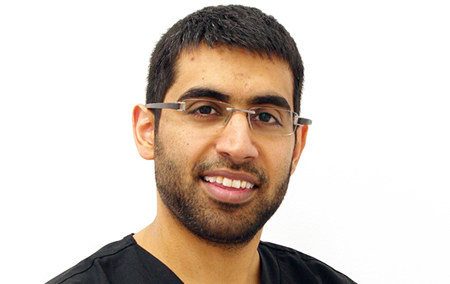 Our highly experienced and expert implant dentist, Dr Suhail Rashid (GDC No: 193008) qualified in 2010 with an MSc in Dental Implantology and has successfully placed and restored implants for hundreds of patients from around Ealing. He also lectures and educates other dentists on the subject of Dental Implantology.
If you're looking for an expert dental implant team in Ealing then you've come to the right place. We understand that losing a tooth can have a significant impact on your day-to-day life and affect how you eat, laugh and smile.
All our dentists are registered with General Dental Council (GDC) and our practice is monitored and regulated by the Care Quality Commission (CQC).
You can rest assured you are in safe hands with our team of experts here at the Dental Gallery.
Why consider dental implants?
Dental implants are a permanent solution for replacing missing teeth, and are natural-looking, robust, and can last for many years.
With modern advancements in dentistry, The Dental Gallery can replace several missing teeth at a time, effectively rebuilding your smile.
Unlike the more traditional options of dental bridges, which rely on the strength and health of neighbouring teeth, or removable dentures which can be susceptible to moving, dental implants are extremely stable, look great and feel just like natural teeth.
Your dental implant consultation
We will always carry out an initial assessment to ensure dental implants are a suitable solution for you. This includes x-rays and a full consultation with our implant surgeons who will describe the process and treatment procedures.
If dental implants are the right option for you, then a detailed treatment plan will be created before embarking on any surgery. Dental implants will require a number of visits to the practice which include both surgical procedures and healing assessments.
Firstly, in order to create the stable foundation for your new tooth, a titanium screw will need to be placed into the jaw. This will take time to fuse to the bone.
Once this is complete, your carefully crafted custom made dental crown can be fitted perfectly in place.
For a dental implants consultation
simply fill in the form provided or call 020 8566 3194.
Teeth in a day (Same day teeth) from just £2,600
As well as performing single or multiple teeth implants we also offer Teeth in a day implants for £2,600. This means you can be fitted with a set of replacement teeth in a single day.
Visit our Teeth in a Day page to find out more.
Frequently asked implant questions
To help keep this treatment affordable we ensure our prices are excellent value compared to other Ealing dentists.

We also offer 0% Finance to help spread the costs of this treatment.

Our Implant placement with a crown prices start from £2,600.

To see our latest implant prices and special offers please visit our fees page.

Dental implants offer a permanent and comfortable solution for replacing a loose tooth, uncomfortable dentures or single and multiple missing teeth. The process involves inserting an artificial tooth root, or the implant as it is known, into the jaw.

This dental implant is a tiny metal post made of surgical grade titanium which fuses to the bone. Once the titanium post is fully integrated to the bone, an artificial tooth made of porcelain is attached to the implant.

Dental implants can be used to support a single tooth crown when replacing one missing tooth, or to support a bridge or a denture when multiple teeth are missing.

Dental implants have on average a success rate of over 95%. The implants are totally secure and stable as they are anchored into the jawbone.

Unlike conventional dental bridges which involve tooth preparation, dental implants are not supported by adjacent teeth; there is no risk, therefore, of damaging or affecting the structure of existing teeth.

Dental Implants require no special maintenance apart from the usual oral hygiene care of brushing and flossing, and regular dental check-ups and hygiene visits every 6 to 12 months.

The placing of a dental implant is dependent upon a sufficient quantity of good quality bone. The selected implant site is first examined and assessed before carefully and precisely preparing it, ready for the right size implant to fit.

The implant, which looks like a screw or cylinder, is then placed into the jaw. Over the next two to six months the implant and the bone are allowed to bond together to form a stable anchor for the artificial tooth.

During this time, a temporary dental crown can be worn over the implant site. Once the implant and the bone have bonded it may often be necessary to uncover the implant and attach an extension.

This small metal post, called an abutment, completes the foundation on which the new tooth will be fitted.

Following this last procedure, the gums are allowed to heal for a further 2 to 3 weeks before finally replacing the temporary crown with a perfect new tooth or teeth secured onto the implant.

An expertly fitted dental implant is virtually undetectable when smiling and talking. We take every care to match any artificial teeth to the colour and shape of the surrounding teeth.

Your new dental implant will not only look natural but will also feel like a real tooth.

When a number of teeth are missing there are various options available for replacing them. You may choose to have a denture, but over time your gums may recede and the denture may become loose.

In general, with dentures, it is hard to achieve a perfect fit and they can be uncomfortable to wear. An alternative option is to have a number of implants placed to secure a denture.

This would give the denture greater stability and make it more comfortable.

Depending on the number of implants placed a set of ceramic teeth can be made and fixed to the implants. This is considered to be the best option for replacing several missing teeth.

When a single tooth is missing there are a number of solutions available. You may have a removable partial denture or plate made.

Alternatively a dental bridge can be crafted and fixed to the adjacent teeth.

The ideal way, however, to replace a single missing tooth is to have a dental implant. An implant assures the best cosmetic result without any damage to the adjacent teeth or gum tissues.
Our latest dental implant reviews via Google
Dental Implants Reviewed by Jill Blythe on

"Having suffered 2 broken crowns, one within the gum, during the first lockdown I called the surgery with a general enquiry. Dr Barez rang me back and advised interim care as no Dentists were open for business.

As soon as they reopened I got a call back as promised even though at the time I wasn't registered with them. The outcome was a consultation with implant specialist Dr Suhail Rashid which involved x-rays, examination and a thorough detailed discussion all of which resulted in my deciding to commit to 3 implants with the extremely skilful Dr Suhail Rashid.

Whilst this involved lengthy major surgery, including extractions and bone implants, everything was managed with great skill, professionalism and consideration for my wellbeing. Eighteen months later, my teeth look and feel completely natural.

Following my specialist treatment I am now a regular patient at the surgery. I have nothing but positive admiration for the whole team and would have no hesitation in recommending the Dental Gallery, for all dental care."

Rating: 5

Dental Implants Reviewed by Roberta De Martina Pinter on

"Very friendly and professional had a brilliant job done on my implant and a few extra fillings. Will definitely recommend."

Rating: 5

Dental Implants Reviewed by L Howes on

"The Dental Gallery staff were all very professional and caring to put one at ease on all aspects of treatment from reception staff to receiving treatment.

Was given full details of treatment plan for dental work, implants and root canal treatment needed and recommendations with time taken to fully explain everything with patience and understanding.

Was put at ease by their patience, calmness, caring and high standard of all treatment received. Would highly recommend the practice."

Rating: 5