CBCT Scan and X-Ray Referrals in London
If you need to refer patients for an X-Ray or CBCT Scan in London to a highly experienced and 5* rated dentist, our state-of-the-art Ealing clinic can help.
The Dental Gallery in Ealing welcomes X-Ray & CBCT Scan referrals from dental colleagues at other practices across London.
Why use our CBCT scanner?
A dental CBCT scanner (Cone Beam Computed Tomography) is a special type of x-ray equipment which produces powerful high-resolution dental images.
At The Dental Gallery our cutting edge CBCT system provides panoramic, cephalometric and 3-D images, which, when compared to conventional dental x-rays, give a better image quality and provide more information.
The high resolution scans allow for planned treatment simulations and image guided treatments.
Cone Beam CT scans allow dentists to have a greater understanding of patients. This results in more precise, diagnoses, assessments and treatment planning.
Cone Beam CT Scans can be used for the following dental treatments:
Our experience, customer ratings and convenient location near Ealing Broadway tube makes us a popular dental and cbct scan referral center for patients from all parts of London.
We are especially popular for CBCT scan referrals from Islington and other parts of North London.
Meet our principal dentist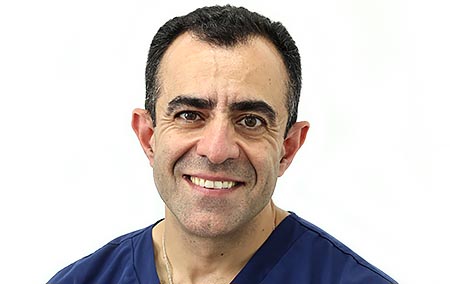 Our highly experienced dental team is led by our owner and principal dentist Dr Roham Barez (GDC No. 79928) who has over 20 years dentistry experience.